Border City Barkers Previous Events - 2018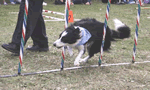 The Border City Barkers Agility Club performs a number of demonstrations each year. We have performed at Art in the Park, the Tecumseh Corn Festival as well as other Local Events. We hope you will experience one of our performances in the near future.
April 4, 2012
Malden Park
National Service Dogs Easter Egg Hunt
Breaking out the show equipment for another season. ust be Good Friday.
May 30th, 2013 @ 6:00 p.m.,
Vista School Tecumseh Book Fair
Something a little different with a show supporting a book sale. Great crowd and a beautiful school.

June 9th, 2013

1:15, 2:15, 3:15

Well that was different. Three shows to start the season off. Great crowds, ust a sprinkle of rain and a cool breeze. Great way to spend a Sunday by the river with the dogs. .

June 19th, 2013 @ 7pm

Royal Oak Seasons La Salle
Something a little different this year, having a show midweek at Seasons. As is always the case the dogs charmed those "old folks" but the senoirs definitly spoiled the pooches too.

July 1, 2013

10:00 AM

Country Village - Woodslee
Trying to do the show around the raindrops...but still got to visit most of the group indoors at a meet and greet.

July 1st, 2013

4:30 PM

Lakeshore Canada Day -

Millen Centre in Woodslee

Well it happens every so often. Rained out, fisrt time in a couple of years.....but Mother Nature still rules.

July 7, 2013

Banwell Gardens

Huron Terrace

Timed it just right. Did the morning show at Banwell, sat out a rain shower then did the afternoon show at Huron Terrace before the skies opened up.

July 22, 2013

10:00 Am

A Place to Grow - St Angela

July 22, 2013

1:30 PM

Lakeshore Summer Program
July 28th, 2013
Viewpoint Winery - Explore the Shore
The good news was that Sam didn't want to go swimming this year and stayed in the show. The bad news was Zues wanted to "xplorer the shore" this year:)
July 28th, 2013
Kingsville Court
A morning show for the senoirs at Kingsville Court. Other than the fact that the "earth shook" when a ceratain member fell during the relay it was a fun morning.
July 29th, 2013
A Place to Grow
July 29th, 2013

Volmer Summer Program

August 18th, 2013
St Clair College Alumni Family Day
A pair of shows at the St Clair Family Day..

August 10th , 2013

11:30 Am and 3:30 PM

August 11th, 2013

11:30 Am and 3:30 PM

Amherstburg Woofa_Roo Pet Fest
A new event in the area but if the turnout is any indication will become an annual affair. Great facilities and dog lovers galore.
August 19, 2013
Rose City Gymnastics
August 19, 2013
Lakeshore Discovery

August 24th, 2013

2:30 PM

August 25th, 2013

1:00 PM

Tecumseh Corn Fest
Two fun shows at the Cornfest. Got to meet Kira Isabella who it turns out is a dog lover and made sure to spend some time with us.

August 31, 2013

Lakeside Park

2:00 PM and 3:00 PM

Tall Ships Festival - Kingsville
A good sized crowd for two afternoon shows at Lakeside Park in Kingsville. Who said it wouldn't be hot on Labor Day weekend?

September 1, 2013

12:00 PM

Harrow Fair
The end of the summer is upon us and that of course means the Harrow Fair. Always a great crowd for early in the day. Dogs were all charged up and ready to go, including chasing all the new scents around the barns.